Thanksgiving 2015 Schedule



Wednesday, November 25
All 6:30, 7:15, & 7:30 pm classes are canceled
Thursday, November 26
8:00 am Vinyasa Flow (75 min)
10:00 am Bikram (90 min)
(Donation classes: Please consider donating a minimum of $10 to benefit META House)
Friday, November 27
8:00 am Vinyasa Flow (75 min)
10:00 am Bikram (90 min)
Saturday, November 28
Back to normal schedule
Class Descriptions
90 Minute Bikram: This is our standard Hot Yoga Class, some would call it the Yoga that made Milwaukee Famous. Our inspiring teachers will lead you through 26 postures and two breathing exercises for a blissful 90 minutes that helps rejuvenate your entire being. The temperature is set to a sweaty 105 degrees to help promote detoxification, and lengthening of your muscles leaving you feeling relaxed, cleansed, and with a focused mind. It's totally designed for beginner's so anyone and their uncle can participate!
60 Minute Bikram Express: Like our 90 minute Bikram class, just condensed to 60 minutes. All the same postures, we simply do one set of some postures and and change the sequencing slightly. Come try this high powered 60 minutes sweat session!
75 Minute Vinyasa Flow: Our experienced teachers will lead you through a 75 minute class flowing from one posture to the next, with music playing to help promote your feeling of well being. You will be strengthening your mind body connection as you integrate your breath with your every movement. This class also promotes detoxification as it is held in a 95-100 degree room.
60 Minute Vinyasa Express: Just like our superb Vinyasa Flow class, except it's only 60 minutes to help fit in to your day.
See who's teaching…
Downtown Milwaukee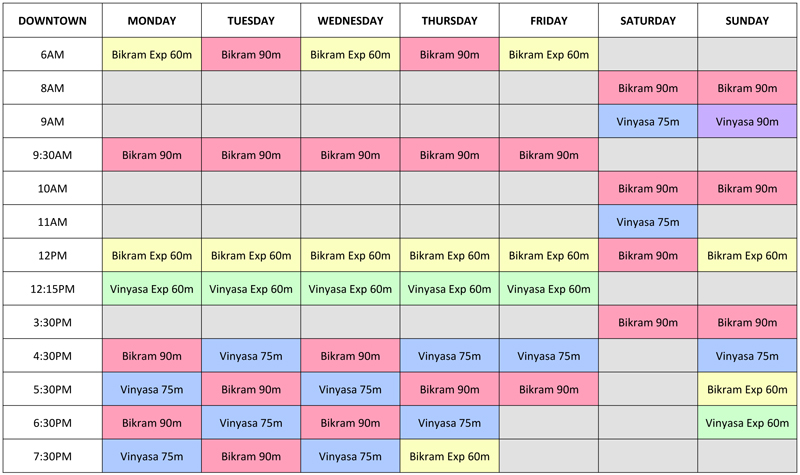 Brookfield